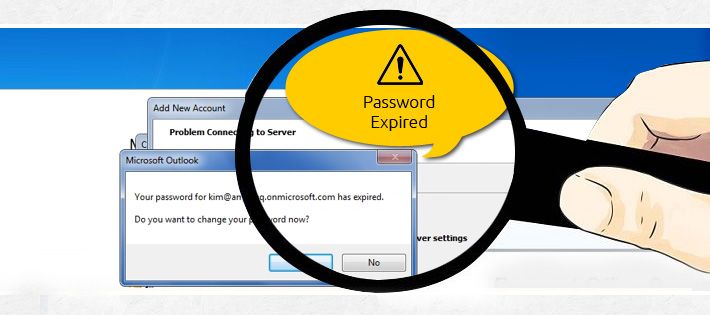 Applying the policy of password expiration after a specific period enhances the security inside an organization, complies with international security standards, and low down the chances of unauthorized access inside the network. Yes, the users will be notified with the logon alerts to change the password before seven or more days of password expiry. However, some users don't receive these alerts when they're not physically available to reset the password or don't login at the domain interactively as their Active Directory account is limited only to OWA, File Share, VPN or any other Web-based service. In addition, Windows Vista, 7 and 8 shows easy-to-miss password expiration notifications in a balloon at system tray, which mostly remains hidden because of icon inactivity and default notification management. Henceforth, there are chances of account lockup resulting in productivity loss and unnecessary complaints when the user comes back.
Tracking the password expiration, notifying the users about it, creating reports for it, and saving the user accounts from locking up can be a mess for the IT Help Desks in a large network. On top of it, Active Directory doesn't have any inbuilt mechanism for helping IT staff in such scenarios except few default password reset policies. Managing password expiration, without any automation, result in heavy resource consumption that can even create a bottleneck. Therefore, a logical and precise utility should be used for avoiding any such scenario. If you're looking for any such one-stop solution, then here is Lepide User Password Expiration Reminder (LUPER) – an innovative product from Lepide Software.
This comprehensive yet easy-to-use tool effectively manages password expiration only for the active users in an Active Directory and automates the complicated reporting part. It generates following six types of reports, presents them in an easy-to-understand format (CSV, PDF and HTML), and schedules their automated delivery to the administrators and other selected recipients.
Reports of users whose passwords are going to expire soon
Reports of users whose passwords will never pass away
Reports of users with expired passwords
Reports of recent logon failures
Reports of users who've changed their passwords
Reports of users whose passwords are going to expire on next logon
With the help of 'Alert Configuration', the administrators can send and receive notifications for users whose password are going to expire soon. These alerts allow administrators to reset the password on time for system accounts and for users who are not physically available.
It is a piece of cake to install and configure Lepide User Password Expiration Reminder. Once entirely configured, administrators can generate the required reports, receive scheduled reports, and configure and deliver alerts to the users of all or particular OUs of a domain.
Summary
Managing the password expiration is a tedious, time taking, and resource-consuming task for the IT help desks. One can use the Lepide User Password Expiration Reminder Tool to perform this job easily.