If you are looking for a free utility to quickly manage local user accounts, Lepide User Management software is the tool of choice. It makes it easy for administrators to manage user accounts within any Domain. It offers the simplest way to manage information about local user accounts. It also enables the administrator to reset local user passwords and enable or disable account status. As an administrator, you can even remotely use the software to perform desired tasks. This solution is available as a freeware standalone tool or is also an integrated feature of our LepideAuditor range which provides detailed audit and control of critical IT systems.
Key features


Easily manage local user accounts within any domain.

Shows information regarding any user account in a particular network.

Allows easy password reset of local accounts.

Facilitates enabling and disabling of account status.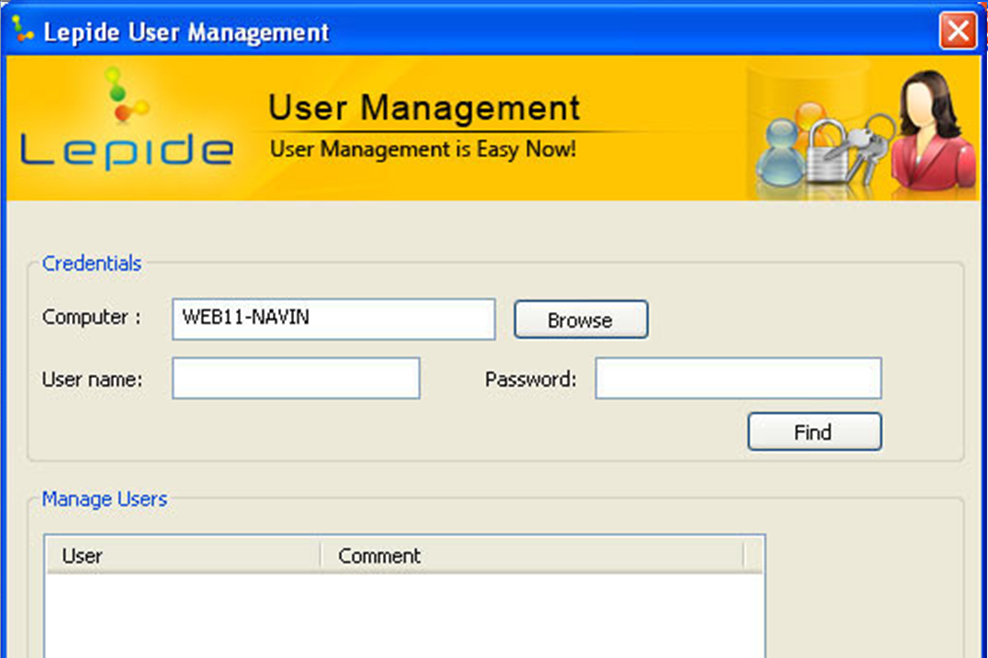 four steps to success
Launch Lepide User Management upon installation
Browse 'Computer Name', enter the logon credentials in the corresponding text fields
Choose which user you want to manage and click 'Reset Password' button
Enter the new password in 'Enter New Password' column and click 'OK'. Or Similarly, you can enable or disable any user account with 'Enable' and 'Disable' buttons
Lepide® is a registered trademark of Lepide Software Private Limited. © Copyright 2018 Lepide Software Private Limited. All trademarks acknowledged.