Solutions for SharePoint Server
SharePoint is an incredibly powerful solution when used properly – it helps teams collaborate effectively and provides an invaluable platform for sharing data. However, natively auditing and monitoring content and configuration changes to SharePoint servers can be challenging. Unless, of course, you're using Lepide. We offer a specific solution to audit and monitor changes to SharePoint servers. Our solution easy to install, simple to use and cost effective.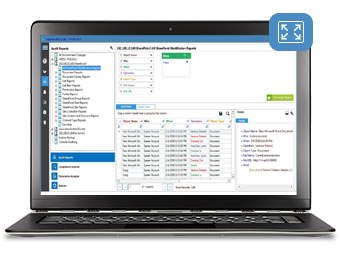 We simplify SharePoint auditing
As a core feature of our award winning LepideAuditor solution, our SharePoint auditing module offers detailed reports showing you who, what, where and when changes are made to any aspect of your SharePoint servers. It gives you real time alerts when changes happen and provides the simplest way to keep track of SharePoint activity.
More info
Free trial
#ChoseLepide